from katie, when she went to new york, from (where else?) hot topic...





it's a choker, with a little jack in a coffin on it. here's a closeup of the jack: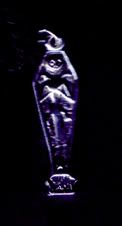 apologies for the bad quality - it's kinda tricky to scan a reflective silver thing ;) next time i'm back home i'll wear it and get a picture done with the digital camera. until then, this'll have to do.