So, today I finally sorted my videos out, since David put the shelves into my ex-wardrobe on Friday night.

For those of you who were ever in any doubt about how many videos I actually own, here's the pictorial proof: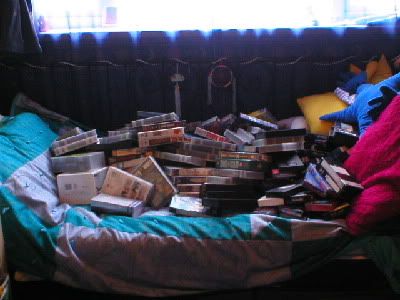 Oh, come on. You think that's all of them?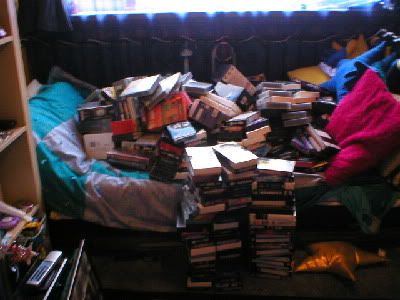 That's more like it. And this, for the record, is what I had to put them into: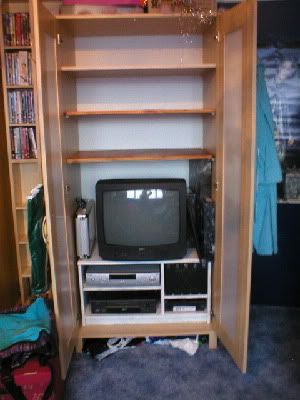 Those shelves are deeper than they looked. The next couple of hours or so were then spent sorting them out into alphabetical order... but not just any alphabetical order, no, no, no. I had to use the following categories:

Bought - Films
Bought - Musicals
Bought - Kids'
Bought - Disney
Bought - TV
Taped - Films
Taped - Films & TV
Taped - TV
Box Sets

And it was around about the point of sorting out the television series that I realised putting more than one thing on each tape was a BAD idea. Anyway, here's what they looked like whilst sorting: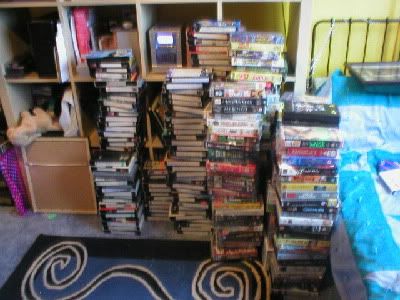 ...and after I'd sorted them into the cupboard.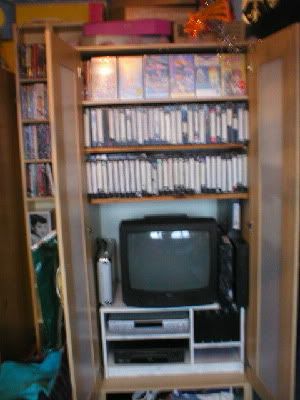 And that was after getting rid of various things I have on DVD. Terrifying.

I'm seriously considering opening a frelling library or something. Seriously. There's so much random crap in there, I'm sure someone would want to borrow it. The thing is, I can't throw any of the bought things away because they're nostalgic. The same is true of some of the bits that were taped for me when I was very small, like my first copy of The Sound of Music, grainy though it may be.

If anyone's deathly curious, the full list is here:



TV shows - taped
Farscape, seasons 1, 2 and 4.
Friends, seasons 6-8 or thereabouts.
Frasier, seasons 8-10, plus some repeats
Futurama, season 1
Most Haunted, series 4-6
Most Haunted Live episodes from about Derby (summer solstice 2003) onwards, plus Dudley Castle, randomly.
The Nanny, seasons 1-3 (mostly)
Red Dwarf, series 1-8
Randall and Hopkirk, series 2 (the new version)
Star Trek: Deep Space Nine, seasons 6 and 7, plus a few others
Star Trek: Voyager, seasons 5-7, and some repeats. I didn't even try to sort them out properly. The Trek serieses are the ones I really want to get on DVD.
The Strangerers, series 1 (most of it, I think)

Box Sets - bought
The 10th Kingdom
Friends, season 1 (both boxes)
Eddie Izzard four-video limited edition set, in a clear briefcase-style box, plus a t-shirt. :)
Audrey Hepburn set
South Park, season 1 (first box)

(I wasn't that dedicated then. And didn't have any money, either.)

TV/film - taped
(This is what happened when I was taping four different series per week - X-Files, The Nanny, Friends, Frasier, Voyager, and Deep Space Nine, at any given time - and ran out of blank tapes. I stuck 'em on the end of various films, an idea which I am now regretting.)

Batteries Not Included + Making of Mars Attacks + some X-Files
The Beautician and the Beast + Blackadder
Cannibal + South Park (I've never watched this tape...)
The Crow: City of Angeals + Voyager + DS9
Dark City + Voyager, season 6
Drop Dead Fred + The Nanny + Friends
Look Who's Talking Now + Men Behaving Badly ("Drunk", which is possibly my favouritest episode ever.)
My Fair Lady + The Nanny + Friends
Poltergeist + Friends + DS9 + The Nanny
Poltergeist 2 + Rex the Runt
Pricscilla + Voyager
The Rocky Horror Picture Show + DS9 ("Trials and Tribble-ations") + The Nanny + Friends
To Wong Foo + The Nanny + Friends (ironically, the episode of The Nanny that immediately follows the movie involves Fran knowing a designer who gets her Hollywood movie knock-offs to wear. "So, who wore this before me?" she asks, reeling off a list of A-list female celebrities. "No," says her friend, "that one was Wesley Snipes..." :D)

Film - taped
After They Were Famous - Von Trapp family (not technically a film...)
Anna and the King
Bean + Lost In Space
Bedknobs and Broomsticks
Cocoon: The Return
Creature Comforts
Cube + The Avengers
Dark Crystal + The Navigator
Dumbo + Snow White's 50th Anniversary special (hosted by Dick Van Dyke.)
EuroDisney promotional thing from the year it opened
Fievel Goes West + A Close Shave
Garfield x2 (the old cartoon movies. One of them is titled "Garfield and the Pirates", and the other one "Garfield + Naughty Cat", which I think is the one where they go camping, which made me terrified of panther-growls for life...)
The Glass Slipper + Barrymore on Broadway
Homeward Bound (the new one)
Honey, I Shrunk the Kids + Four Weddings (I think)
Judy Garland biographical mini series
The Land Before Time + The Phantom Treehouse (wow, I haven't seen that in years!)
The Lion King
The Little Mermaid 2 + A Bug's Life
Living With Dinosaurs + Legend
Mary Poppins
Misto (it's a digital home video my mum did of our cat...)
Muppet Treasure Island (Tim Curry yay!)
Norfolk House School speech night 1993 (my final year at primary school; we did wartime and music hall songs)
Oliver! + A Little Princess
Pee Wee's Big Adventure
Peter and the Wolf + The Wrong Trousers
Pinnochio + An American Tale
Psycho (original)
Return to Oz + Pig Robinson
Scrooged + Honey, I Shrunk the Kids (again!)
The Secret of NIMH + The Wolves of Willoughby Chase
SFX: The Event 2002
The Snowman (it's on a 30-minute tape! That's how old it is!)
Some Like It Hot
Song and Dance
The Sound of Music (taped circa 1982; it has Moira Stewart reading the news afterwards with a GIANT AFRO)
Stigmata (I don't think I've ever watched this one either)
Swan Lake (Matthew Bourne version)
That Darn Cat + Father Christmas + Brother Bear
Thomasina + Willy Wonka and the Chocolate Factory
Thoroughly Modern Millie
The Truman Show
Tubby the Tuba (this belongs to
herringprincess, and I'll give it back when I've transfered it to DVD...)
The Wind in the Willows
Winnie the Pooh (no idea which one)
Yentl

TV - bought
Bottom: Fluff
Bottom Live 1 and 2
Bottom Live 3: Hooligan's Island
Davies, Alan: Urban Trauma
Fawlty Towers (3 episodes)
The Very Best of Frasier, vol 6.
French and Saunders
Izzard, Eddie: Dress 2 Kill
Izzard, Eddie: Unrepeatable (in the box for Glorious, though the running time on the back of the box is actually for Unrepeatable... Even though I now have all four of them anyway, I had to keep this one for posterity.)
Men Behaving Badly, series 1 episodes 1&2
Red Dwarf I: The End
Red Dwarf I: Confidence and Paranoia
Red Dwarf II: Kryten
Red Dwarf: Smeg Ups
Red Dwarf: Smeg Outs
Red Dwarf VII: Extended
Shooting Stars
The Simpsons, the Dark Secrets of
Unseen Bean
Star Trek: Voyager 2.11 (because I'd been waiting bloody months for a repeat of "Resolutions", so I bought it.)
The X-Files, season 1, episodes 1&2
The X-Files, files 1-10 (all in boxes)
The X-Files, file 11 (Patient X)
The X-Files, file 12 (The End)
The X-Files, One Son (they'd stopped being 'files' by then)
The X-Files: Secrets of the X-Files
The X-Files: More Secrets of the X-Files (these two came out with the 'forensic evidence boxes', which are now housing the first 10 videos. The 'files' were the multiple-parters all stuck together and tended to come out before they aired on Sky One...)

Disney - bought
101 Dalmations (live action)
Aladdin
Alice in Wonderland
The Aristocats
Bambi
Basil, the Great Mouse Detective
Cinderella
Duck Tales: The Movie
The Jungle Book
Lady and the Tramp
The Little Mermaid
Nightmare Before Christmas
Peter Pan
The Rescuers
Robin Hood
Sleeping Beauty
Snow White
Sword in the Stone
Very Merry Christmas Songs (singalong songs)
Who Framed Roger Rabbit?

Kids - bought
All Dogs Go To Heaven + The Secret of NIMH
Annie
Casper
Chicken Run
A Christmas Carol (animated version, with Tim Curry as Scrooge)
Fern Gully
Fraggle Rock
Get Ahead (a video teaching you how to mind map)
Hocus Pocus
Hook
Into the Labyrinth 1 and 2
James and the Giant Peach
Labyrinth (two copies)
The Last Unicorn
The Lion, the Witch and the Wardrobe (BBC series)
Mrs Doubtfire
My Little Pony (2 episodes)
The Neverending Story
Pokémon: the First Movie
Pokémon 2000
Pokémon 3
Scooby Doo (some episodes of the cartoon, one of which has Sonny and Cher guest-starring)
Sparky's Magic Piano
The Witches
The Worst Witch
Yogi's First Christmas

Musicals - bought
Cabaret
Cats (two copies; one has a BBC documentary on the end)
Evita
The King and I
Les Miserables in concert: the Dream Cast
Andrew Lloyd Webber: Masterpiece (live in Beijing)
The Rocky Horror Picture Show
Shock Treatment
The Sound of Music
The Wizard of Oz (1986 video release)

Films - bought
Ace Ventura, Pet Detective
The Addams Family
Addams Family Values
Addams Groove (docufilm about MC Hammer and the 'Addams Groove' song/video)
The Avengers
Batman
Batman Returns
Beetlejuice
Black Beauty
The Blair Witch Project
Blithe Spirit
Carry On Screaming
Cocoon
The Crow (with Brandon Lee interview)
Ed Wood
The Exorcist
Forrest Gump
Freaks
Girl, Interrupted
Gremlins
Guest House Paradiso
Hamlet (Branagh)
Hannibal
Interview with the Vampire
Jurassic Park
Look Who's Talking 1 & 2
Mars Attacks!
The Mask
Men In Black
The Others
The Phantom of the Opera (Lon Chaney)
Priscilla
Run, Lola, Run
Short Circuit
The Silence of the Lambs
Sleepy Hollow
South Park: Bigger, Longer and Uncut
Spiceworld: the Movie (I would like the record to show that I only bought this for Richard O Brien's part in it)
There's Something About Mary
The Wedding Singer
The X-Files Movie

Wow. That's terrifying. Out of those, I also have several of them on DVD and would feasibly consider selling the videos to people for a reasonable £5.00 each... I'll keep you posted.

Video marathon, anyone?

Okay, this entry killed 45 minutes of time, so I'll check my f-list, read my email, and pack for the next two days before heading out in the cold...

(PS: It feels like the only thing holding my teeth to my gums is the plaque. But I still won't go to a dentist, thank you.)