After collating, it turns out there are 30 sets of minutes. They don't look to be too bad/illegible, though, so I'm hoping they won't take me that long. It'll just be frelling tedious...

Anyway, this is mostly a photopost. Whilst I could rant about the fact that I was waiting 45 minutes for a bus that's meant to be ever 20 this morning, I won't, because it's boring. TWM will get their comeuppance at the Apocalypse, mark my words.

I went to Matalan today, and spent £81 that I shouldn't have done... but the good thing about Matalan is I get a heck of a lot for that amount of money. :D Before I post those pictures, though, I'd completely forgotten about these two from the weekend: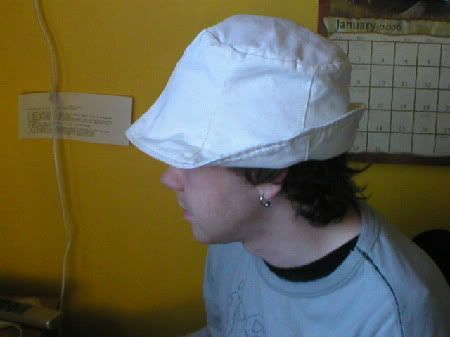 That's actually a sun hat. Even though I fashioned very cleverly into a fedora, he still wasn't impressed, nor did he believe me when I said it suited him. I put it to the general public to vote on this...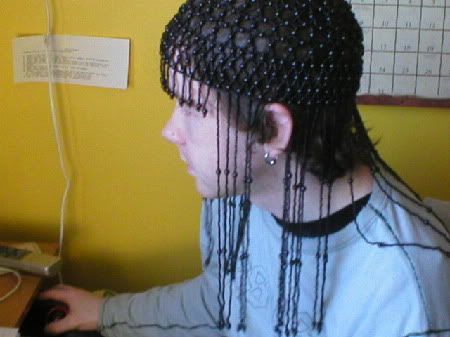 That thing is a beaded headpiece that I got from a shop on a sidestreet near Monmatre, about 8 years ago, which I've never worn due to having short/wavy hair. It looks really frelling cool, though, so now that I am equipped with straighteners I may start to wear it. Meanwhile, the QueenKing of the Nile is playing Snood on my PC...

Okay, and here's the purchases from this evening, as a result of which I will need to have another clear out of shoes, tops, trousers and general otherness. Not to be confused with Otherness, which is something else entirely more complicated...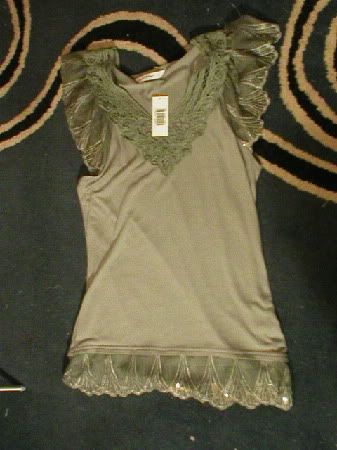 A grey/silver 1920s style top. The model in the catalogue blatantly has no hips, as it's ridiculously long and doesn't even start to cover mine... but it looks perfectly fine all bunched up around the middle, and hids my stomach nicely.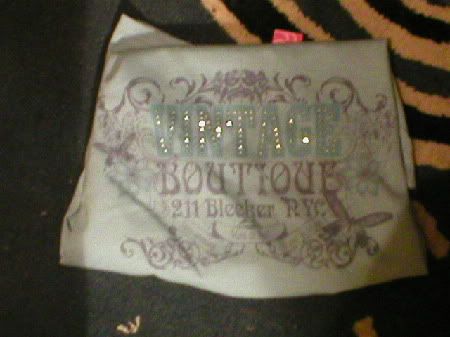 You can't really tell, but it's sky blue with purple/lilac text on it, and it's a generic t-shirt... unfortunately the fabric doesn't have much give so I'll have to take it back and swap it for the next size up.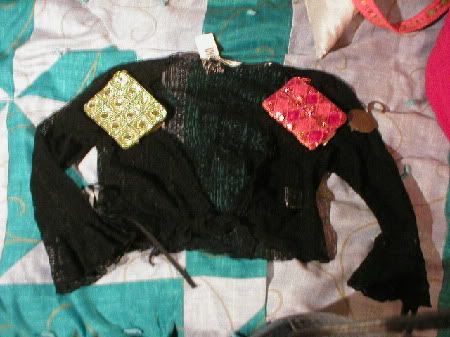 Black lacy stretchy bolero top (preeeetty!) and two purses. There are two more downstairs in blue and red that my mother bought, since we couldn't decide which ones we preferred... The green one will go with a bag that I got in Debenham's sale last Christmas...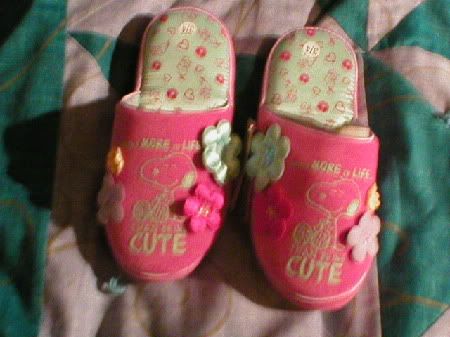 More slippers! The text says "There's more to life than being cute". Why couldn't they have had interesting/nice slippers before Christmas when I wanted some, huh?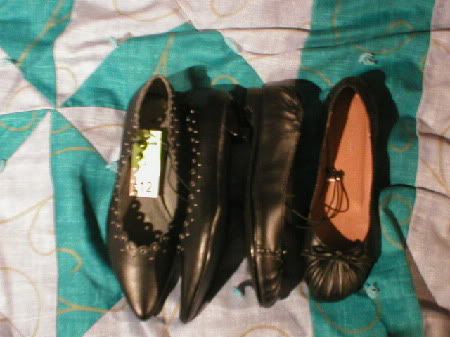 Shooooes! Because I became aware of the fact that I had no ordinary, fashionable black shoes other than ridiculously impossible-to-walk-elegantly-in interview shoes with a three-inch 'stiletto wedge'. The pointy ones especially will be useful if I ever decide to go to Rocky as a Transylvanian. :)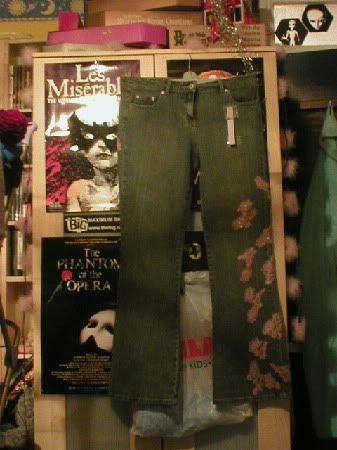 And some more jeans. Because you can never have too many pairs of jeans. :D

That's me done for a while, at least.

Hurry up and cook, food.