Yet another miracle worked by Derek at Supercuts...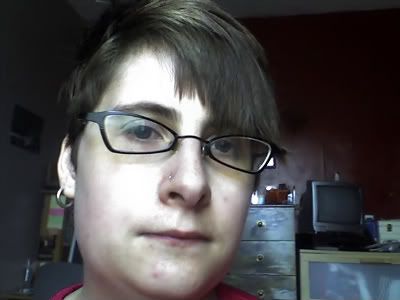 If I look tired... that's because I am. Also whenever I take these photos my chin seems to have erupted... I also tried to get a picture of the back but it's quite difficult to do that with a camera-phone. :P

Aaanyway. I guarantee it'll look rubbish when I try and re-create it, but I'll have a valiant effort nonetheless. I have some manner of product that I bought last time I was there which I'll try first of all, and failing that will just have to go and buy some heavy-duty wax...

We spent over £200 in Asda last night, but the fridge, freezer and cupboards are completely full, so it wasn't all luxury items. We won't have to do another big shop for at least three months, hopefully. Thank God for the credit card, that's all I can say.

MUST WRITE CHEQUE FOR VICKY'S MUM TONIGHT. Gah. Keep forgetting.