Yesterday was quite pleasant. I was only at work for three hours, because I had to leave shortly before 12.00 to go and pick Lisa up from the Queen Elizabeth Hospital (the old one). She'd gone in for A Procedure (not sure she would forgive me for disclosing which!) which required her to be under heavy sedation so she wasn't allowed to be released into the wild on her own. ;)

I got the train down and managed to find her without any trouble, thanks to asking for directions when I rang up to confirm the collection time. The receptionist helpfully informed it was the Green Zone on the fifth floor. Which was just as well, because I'd never been to QEH before and it's frigging massive. Clearly those weeks of placement as an OT must have been good for something, even if it's only being able to navigate hospitals. :P

Anyway, we got a taxi home and then sat and watched telly for five hours. Lisa has bought some DVD box sets recently and rather than inflicting Alias on me partway through (she's on series 3), we decided to give Love Soup a go... It's a sitcom by David Renwick (Jonathan Creek and One Foot in the Grave, amongst others) about two people looking for their perfect partner who manage to miss each other until (I presume) the last episode. It stars Tamsin Greig and some other guy whose name I've forgotten, and co-starring Sheridan Smith, which is obviosuly how Renwick found her, and Montserrat Lombard (Shaz from Ashes to Ashes) and a few other familiar faces.

It's VERY Renwick. It has those little touches of surrealness one would come to expect from his writing - bizarre situations arising from seemingly innocent starting points - and some clever play on words. It also, alas, has his trademark clunky dialogue in places, which is often the only thing to let down his usually good scripts... There are also occasional touches of seriousness and humility that bring the comedy down to earth, again a common factor of Renwick's writing.

Also? Sunset Boulevard reference FTW. Episode 4 (I think it was) has Gil (the main male character) refer to a young actress with delusions of grandeur in the following terms: "She lives in a tragic Norma Desmond fantasy world." :D Also, Gil himself is an American writer (of comedy, not movies) whose older next door neighbour has a crush on him. So actually I suppose the entire thing in his half of the story is quite SB-esque and probably accounts for why I was shipping that pairing. Hello, predictability!

I always find the concept of writing about writing to be interesting in and of itself, and Love Soup is rife with it, as Gil is writing a sitcom for the BBC. There are several cut scenes where whatever he is writing or has written play out on screen, and I really enjoyed the sense that he was full of potentially amazing, intellectual ideas and got stuck writing comedy because he had a talent for it. The cut scenes themselves don't seem funny so much as quirky, but you get the sense that quirky didn't sell. Considering Gil has a spare £2000 lying around at one point to just give away to a good cause, it seems he's fallen on his feet with the comedy writing nonetheless.

At one point he gets roped into writing an episode of a comedy series with an old colleague, which prompted me to say to Lisa, "That looks like the best job ever - they get to sit around writing jokes and eating ice cream!" Indeed.

So yeah. We got five episodes into series 1, so there's one left, and then another series. I might either buy it or borrow it, for now, so I can watch the rest. Definitely worth a viewing.

Following that, at around 6.30pm, Lisa went up the road to get herself some chicken, and I went back upstairs to await Paul's return home. We had steaks with baked potatoes and salad (Paul) or butternut squash (me) for dinner, and we caught up on the new series of X-Factor. I know full well this will make me angry again, but as it's the last series ever I thought it would be remiss of me not to snark it. :P

And that's that. Thank anything, I have a week off next week. Spring cleaning is on the cards, as well as a trip to Oxford to see
jackiesjottings, assuming the trains aren't completely useless...

Whilst I'm around, here's some more stuff...

Day 14 - A Song That No-One Would Expect You To Love

Given my hatred for all things hip-hop/R&B/rap-shaped, this may come as a surprise, but I think it's a lot of people's favourite...

Eminem - "Stan"

That's the reeeeally long epic version. I only half-own this (I have "Thank You" by Dido, which features, famously, in "Stan"), but I was tempted at one point by the Eminem greatest hits album so I could get hold of this. There's something incredibly haunting about it, with the eponymous hero reaching out to his idol...

Also? Despite what I might have thought, Six Mile was actually really good. Though it is not, Channel 4, a musical. Not by any stretch. :P

Day 15 - A Song That Describes You

This one is easy peasy.

Alanis Morissette - "Hand in my Pocket" - from Jagged Little Pill

Otherwise known as, "songs that saved your life". It's about me, every line except the one about the cigarette. Utterly terrifying. I happened to listen to this during my final year of university, on the way to work at the pub, when I was panicking about the future and feeling utterly dejected. This song changed my mood in an instant. Yes. Everything is going to be fine.

And now for another bit of embroidery...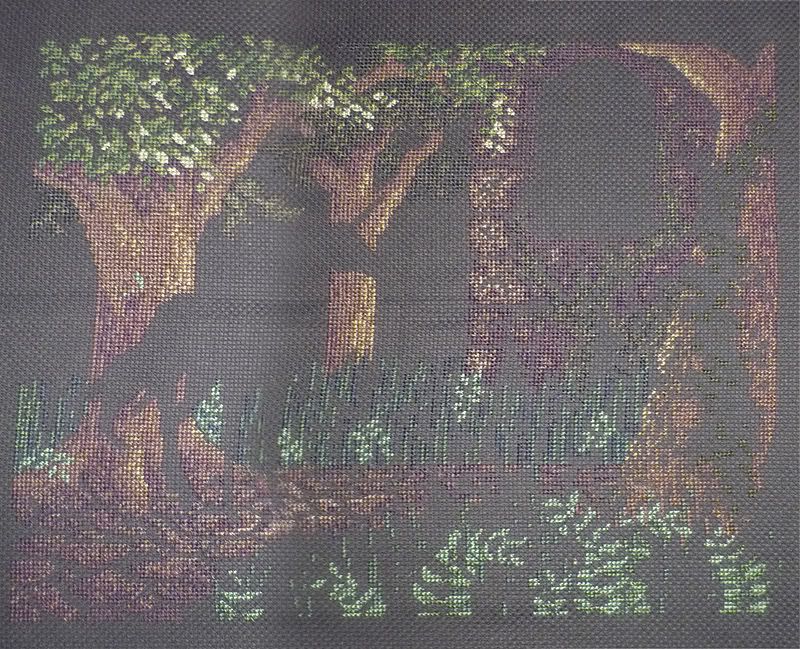 I've done a bit more blue-green today. There wasn't much but you can see that the leaves around the bottom are wider now. :)

Okay, I think that's everything. Now to check train times.