I did start an entry at work today because at around 11.00 it was very quiet. And then Last Minute Friday kicked in and I was busy all the rest of the afternoon. Bit of annoyance cropped up as a result, but I'll try and keep that together with the rest of the post, which I'll hopefully finish this weekend if I remember. I have since got home and had a shower and put my jammies on so I'm a bit mellower now...

Anyway. I'm doing four days here because that only leaves four until it's finally finished, and I can hopefully do those four in one go when I get around to it, too... So, here we go.

Day 23 - A Song You Want Played At Your Wedding

Okay, I had to think long and hard about this and was even discussing with Paul what song we should have at our wedding, since we can't agree on anything except the Killers and they don't really do very wedding-y music... So in the end I went back to an option I had a long time ago which would have been awesome...

The Laendler - from The Sound of Music

Sorry for the rubbish video, it's the only one I can find of the movie sequence. This is one of my very favourite scenes in the film, along with the gazebo scene, obviously. I think TSOM actually made me a shipper without realising it, actually, seeing as I used to watch it endlessly as a child. :D Anyway, I really really wanted to learn this for the first dance at my wedding, but Paul is mean and refused. :P Apparently lots of other people have had the same idea, though, as YouTube is full of wedding dances to the Laendler!

Day 24 - A Song You Want Played At Your Funeral

It used to be Pachelbel's Canon, played slow and sincere, but then I heard this...

The Killers - "Goodnight, Travel Well" - from Day and Age

Those lyrics are just amazing. It didn't really strike me until I paid attention, as it's a late track on the album (it's meant to be the last one, I think, but as ever the British release of the album had an extra, bonus track on the end...), but WOW. Apparently Brandon wrote this when he found out his mother had cancer, and there are some other tracks on the album (like "A Dustland Fairytale") which also deal with that subject, but this one is incredibly powerful. It's also written for another band member who lost their mother. Listen to the lyrics in that light and it all becomes painfully clear. Absolutely amazing.

Day 25 - A Song That Makes You Laugh

And from that rather maudlin tone to something completely different...

Full Case - "For Now" - from Avenue Q

SO SO TRUE. All of the songs in Avenue Q are sort of... awkwardly close to the bone. "What do I do with a BA in English?" is the opening song, for God's sake, and there's "I Wish I Could go Back to College", too. This one is very similar, but the last few examples are hilarious. The George Bush line got the biggest laugh of the entire show when we saw it in London. :) According to a commenter on YouTube they have replaced it with "Nick Clegg". Aw, that's a shame; I suppose "The Tories" didn't scan. :P

Day 26 - A Song You Can Play On An Instrument

I probably can't any more, but...

Peter Auty (or Aled Jones) - "Walking in the Air" - from The Snowman

I remember wanting a specific music book so I could learn to play this, although it was several years before I learned any of the other pieces in said book. :) I still recall the first Christmas this aired on TV (and that I had the animation on video), and the song gives me chills...

(In the matter of interest, here is a video of someone playing it, which looks like a very similar version to the one I had. Needless to say, they play it better than me. :P)

Okay, that's that done.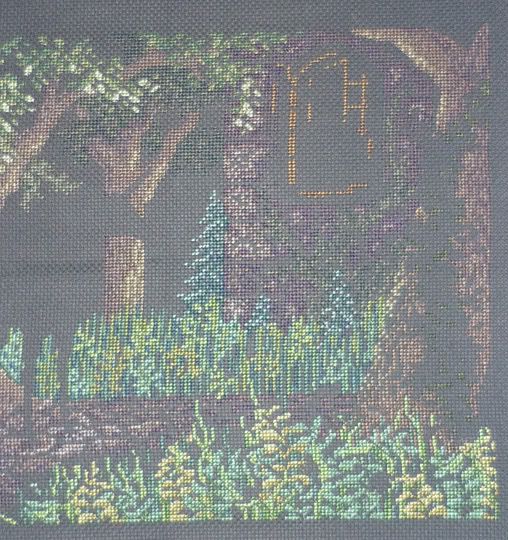 I don't even remember what I did here. I think it was some more greenery down the bottom. It's been a couple of weeks since I actually did the stitching!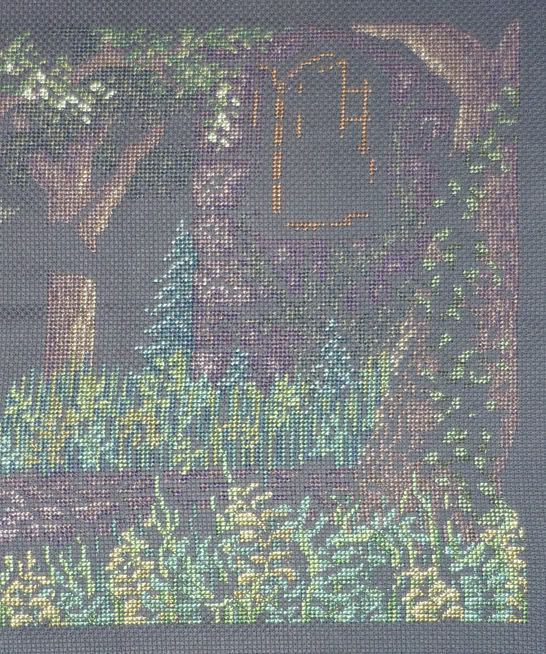 This is more leaves on the left-hand tree. Thanks to fucking up early on I am having to improvise in certain areas, but hopefully they'll all turn out leaf-shaped in the end. Meh.

Aaaand here are my Christmas decorations, all finally finished...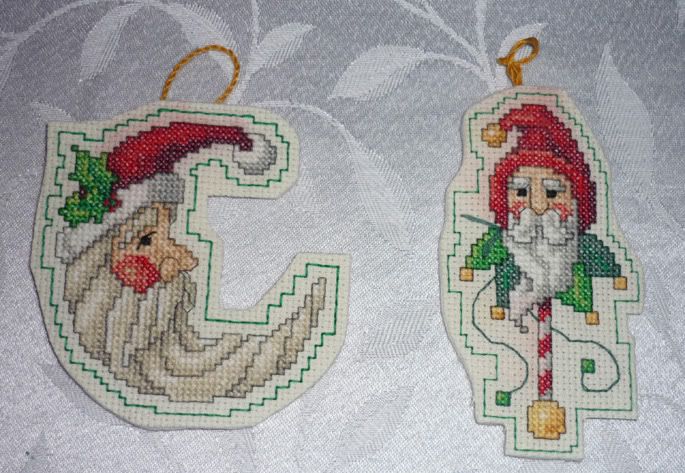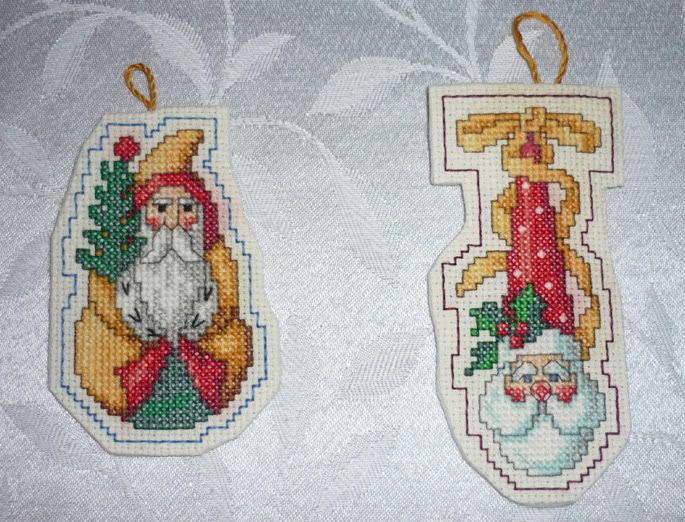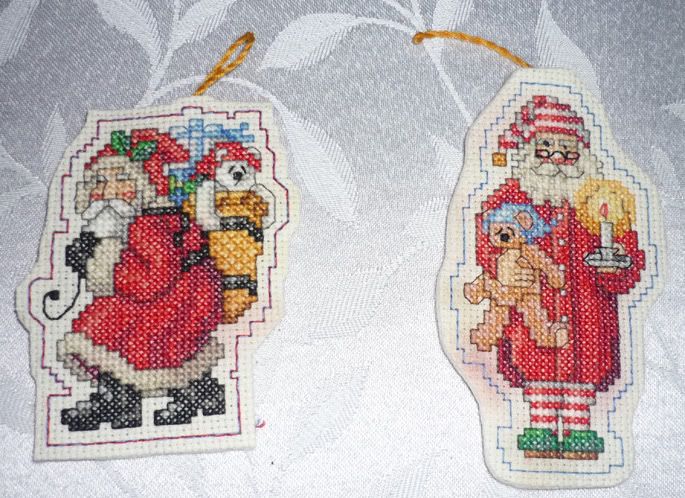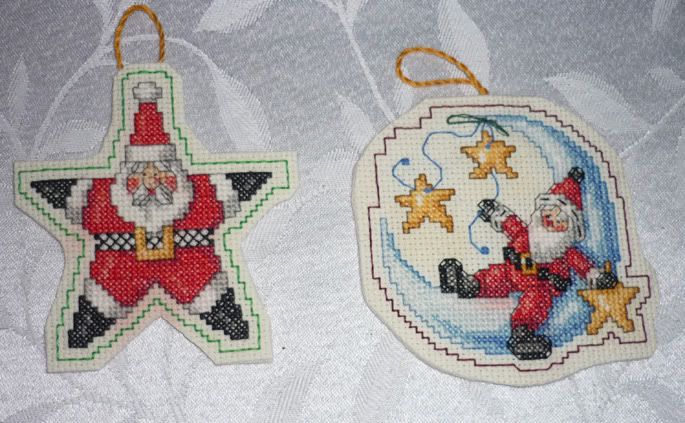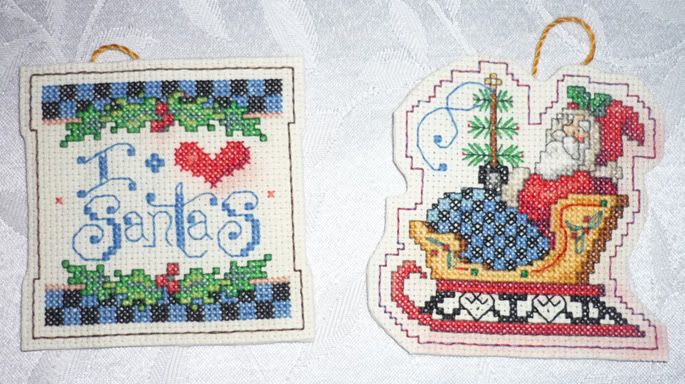 They're not supposed to have those borders around them (although I think they look quite nice, personally), but when I was trying to finish them before, I watered down the glue too much and the felt wouldn't stick. Also it made the red bleed a little bit, which you can see on some of them. So in order to affix the felt to the back obviously I had no choice but to sew it. And believe me, it was hard work. I got through the last four or so whilst watching Damages so my brain was focused on something other than my finger getting a callous from forcing the needle through hardened aida and gluey felt.

ANYWAY, they're done now, and I will be sure to post photographs of them when they're on the tree, too. :)

That'll do. My hands are cold and I'm hungry.