I started doing some more of The Embroidery on Sunday as the sun had come out and it's finally warm enough to take it up again (over the winter I finished a tapestry, fill-in-the-colours type project which is now awaiting framing). Apparently my last scan / photo was number 34, and I have up to 39 on the PC so I'm overdue with progress pics.

Most of these are going to be quite samey...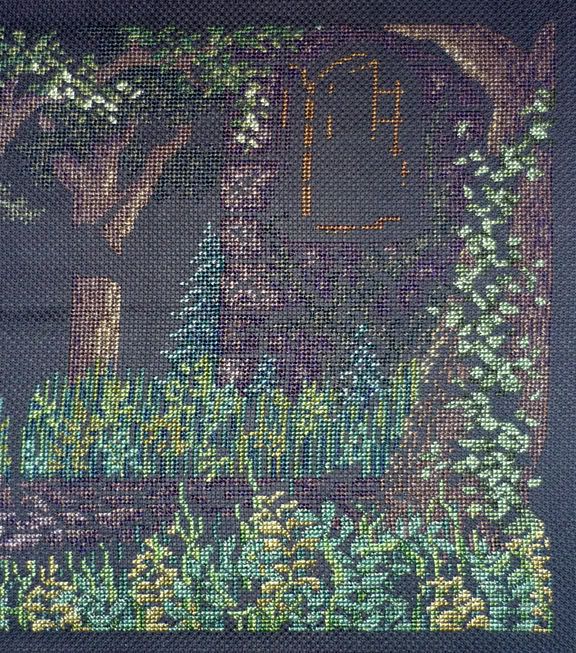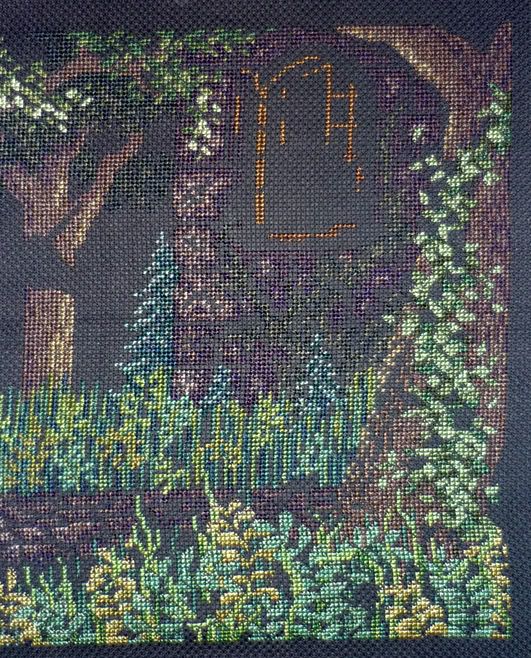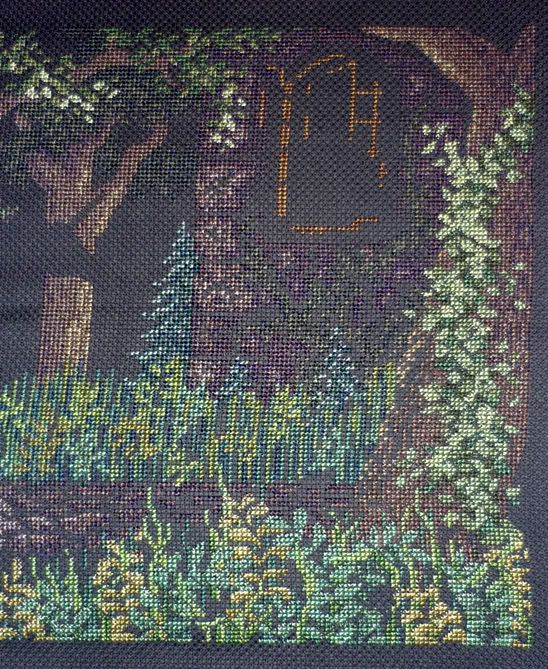 These first three are the leaves / greenery going up the tree on the right, in three different stages. I don't think you can see my improvisation in parts. :)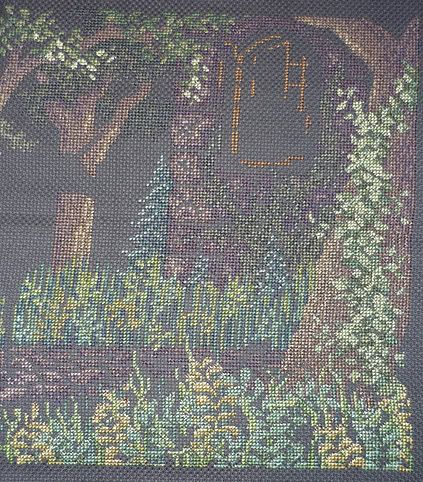 This was finishing off the tree trunk in a lighter brown.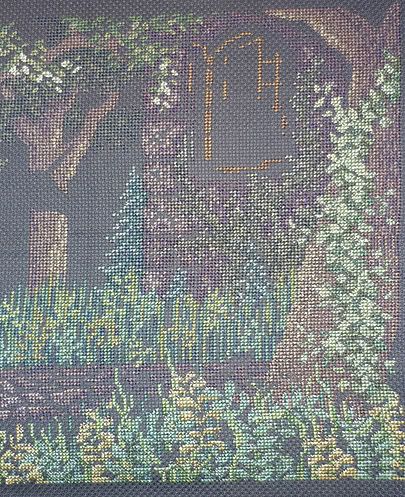 And this is the most recent pic, which I completed on Saturday. It's some of the vine type stuff underneath the window. I was sure I took another one of the next shade as well, but if not I'll take that tomorrow before I start the next bit.

I think I'm winning! There are still lots of colours still to complete but some of those are very small areas, and obviously there are two big negative spaces still to fill in, but I'm saving those til last. ;)

On Saturday it was our six-year anniversary. We spend the morning viewing a house in Harborne (on Tennal Lane, where the golf club is). We got there bang on time at 12.15, despite our internet failing in the morning so we couldn't check the exact location of the house. It transpired to be pretty much the last house on the street and we walked the entire length of it. The estate agent rep turned up 20 minutes late.

The house itself was pretty awful. It had a few nice features, and had apparently been "refurbished", but the kitchen was horrible and the bathroom was a bit grotty as well. The landlord had merely resealed the bath instead of replacing it and put in new lino, but we could see it wasn't properly finished. The rep had an embarrassing moment when trying to open the vertical blinds covering the patio doors, as when he pulled on the cord the entire blind / runner part wobbled and was coming away from the ceiling.

We decreed that one to be a write-off, which was a shame because the area itself was lovely. It just wasn't worth what they were asking for it; frankly I think they were charging for the fact it was in Harborne...

We went into Birmingham after that for a quick drink in Bacchus, but as it was so bloody hot on Saturday I got it into my head to get my hair cut. Thusly:-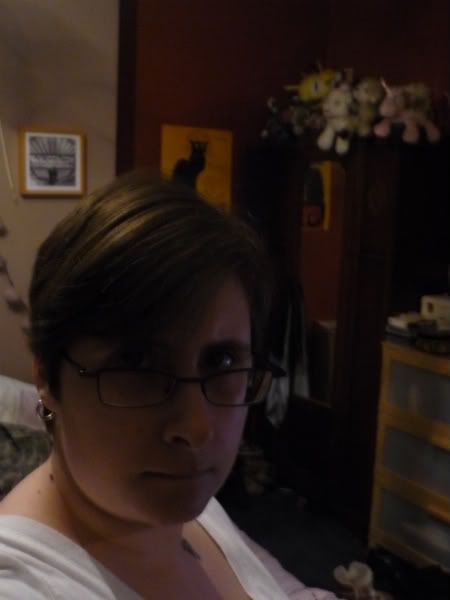 Paul also bought me some lovely gloves / arm-warmer things from Disorder Boutique. These are all hand-woven individual pieces. I don't know when I'll get to wear them but they're very pretty...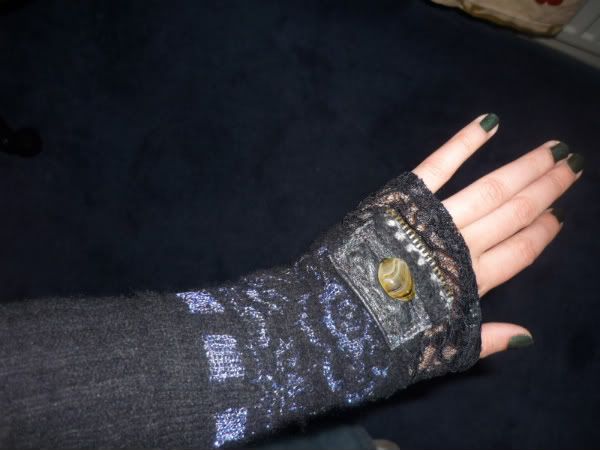 We went to Bacchus after that for one drink, then headed back home again, whereupon I had a quick bath and we got changed and went to Jamie's for dinner. It was just as nice as last time, and the wait was shorter (presumably because they have more tables for two than for six...) I had the squid starter again and Paul had the meat antipasti, and we shared some ricotta bruscheta (om nom). For mains I had the carbonara, which was delicious, and Paul had a prawn pasta dish.

Sunday was sedate, and involved watching Date Night on the evening, which was surprisingly amusing.

Today we went to see another house, on Ridgeacre Road in Quinton. It was almost perfect except for being slightly over-budget and the kitchen (again!) being tiny. Which was a shame because despite being on a fairly busy main road it was really quiet, and the other rooms were a good size - bay windows upstairs and down at the front, with a trianguar feature window for the box room at the front, and a lovely bathroom. The kitchen was unworkable, though. It was smaller than ours is now and had about three cupboards. Seriously, Birmingham? Build bigger kitchens already!

Tomorrow we're going to view a detached bungalow in Quinton which looks very promising from the photographs (the other two have not had any interior photos so we did them first), with a good-sized kitchen and an interesting feature fireplace, and failing that there are still other properties in the line-up to view... Now that we've properly started the ball rolling and have seen what's out there, I'm feeling a bit better about things, and not quite as doomed to failure as before. I'm still really gutted about losing the property in Oldbury, but there are others out there just as nice. And we may not have to move to Walsall to find them as I was beginning to think. :P

That's it so far. I need to organise a Secret Thing for
commoncomitatus's belated birthday present so will do that tomorrow and then let her know the arrangements, but that isn't until after the Royal Wedding and I have a concert to worry about in the meantime. Hopefully this week won't be too hectic.

PS: I have a recipe to post but I'll do that separately so this isn't too long. :P